TikTok is the 'it' factor that helped me successfully grow my makeup vending-machine business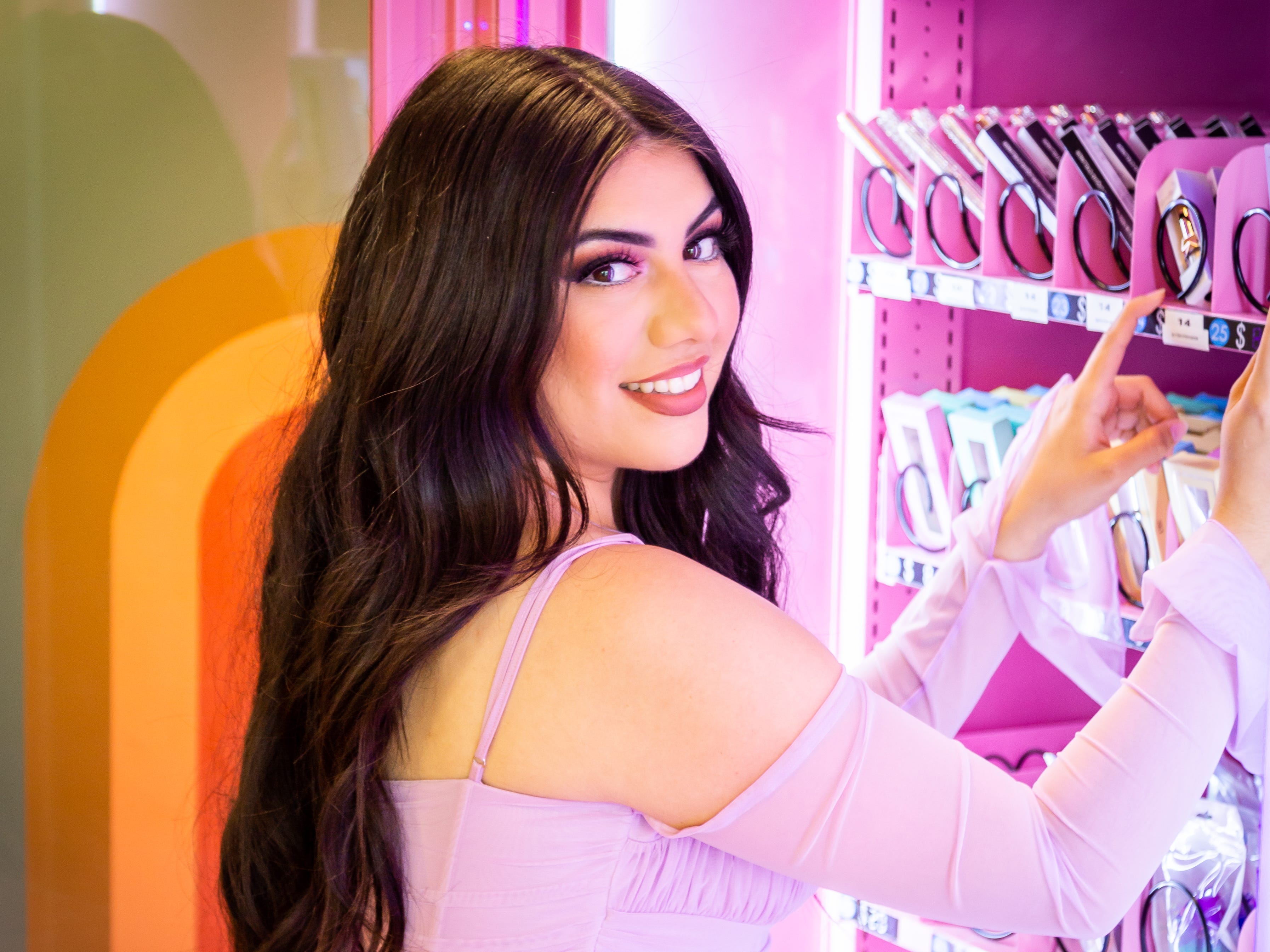 Janet Leyva operates five vending machines selling lashes and makeup in Idaho.
Last year her vending machines generated $13,607 in sales.
Her TikTok videos, especially ones where she pulls cash from machines, have helped her grow.
This as-told-to essay is based on an interview with Janet Leyva, a 29-year-old entrepreneur in Kuna, Idaho, who started Leyva Beauty, an online business selling lashes and makeup, in 2020.
In 2021 she opened her first vending machine, stocking with it her lashes and makeup for locals to buy in person. Last year Leyva generated $84,074 in online sales and $13,607 in vending-machine sales, which Insider verified with documentation. Today she operates five vending machines.
Vending machines have become popular businesses thanks to entrepreneurs like Leyva who post about their experiences on social media. Some have discussed the machines' potential to bring in passive income, while others have boasted that they've made six or seven figures in annual sales.
The following has been edited for length and clarity.

I was inspired by Kylie Jenner
I got my first vending machine a year into my business. I would always see Kylie Jenner's vending machines, so that sparked something in me. Hers sold lip kits, but I wanted mine to be dedicated to cosmetics and lashes.
Before I signed anything or put money down, I needed to find a location. The last thing you want is to have a vending machine sitting in your garage because you got ahead of yourself and don't have anywhere to put it.
I would pitch to businesses that it's a makeup vending machine and it's never been seen here in Idaho — I'll be the first one, but everyone's going to love it.
There were times when I wanted to cry, and I did cry, because I was getting a lot of denials.
But my first machine was in Caldwell, Idaho, at a marketplace called Oakes Brothers. They gave me a year lease, and I was bringing in so much clientele for them.
I believe I paid about $5,000 for the first vending machine alone, not including inventory.

Now I'm running 5 vending machines
Leyva started by selling lashes, then expanded into other cosmetics. Foto: Janet Leyva
A few months in, I really saw that people were going to the machines. I realized I needed to add more. I expanded to Kuna, Idaho, in a laundromat. That one caused quite a buzz, and I got featured in the local news.
The third is in Meridian, Idaho, inside another mom-and-pop shop called Artisans of Idaho.
My vending machines in Twin Falls, Idaho, are inside a mall, and that's the location where I've been doing the best. One vending machine is just dedicated to lashes.
Whenever I bring in my vending machines, it's an opportunity for the building owners or businesses because I'm bringing them all my clientele. I always promote the establishment, so I tell my customers to go to my vending machine and then eat or shop at this location too.
Because I'm in other people's buildings, my vending machines function on the hours the building has. So I do notice that I benefit from the ones that are open a little bit longer.

I love TikTok — it's the root of my success
When I opened my first vending machine, a lot of people wanted to see it. Then it kind of slowed down.
You have to promote yourself. So I went on social media to show that there's a makeup vending machine in Idaho.
People will view my videos on TikTok, and sometimes it takes a few videos, but they'll end up making the purchase. Girls will comment and then go the next day and find a vending machine. People have visited from Washington and Oregon to see it.
You have to have a connection with your audience. I tell them about my day or what orders I'm packing. They're hearing a real person, and they feel like they're interacting with me. Using my voice with TikTok and not just sticking to the basic music — that's why I've grown so much.
People want to see videos of my vending machine, my restocks, and the money — they love the money! Those videos of me pulling out the cash have such good views, so now I'm doing them all the time. I also put some humor into it. And it kind of makes people talk about it more. So I just have fun with it.
TikTok has been that "it" factor for me — without it, I wouldn't be making an income. The fact that I get to do something that I love and make money out of it, that's a win-win in my book.
Read the original article on Business Insider