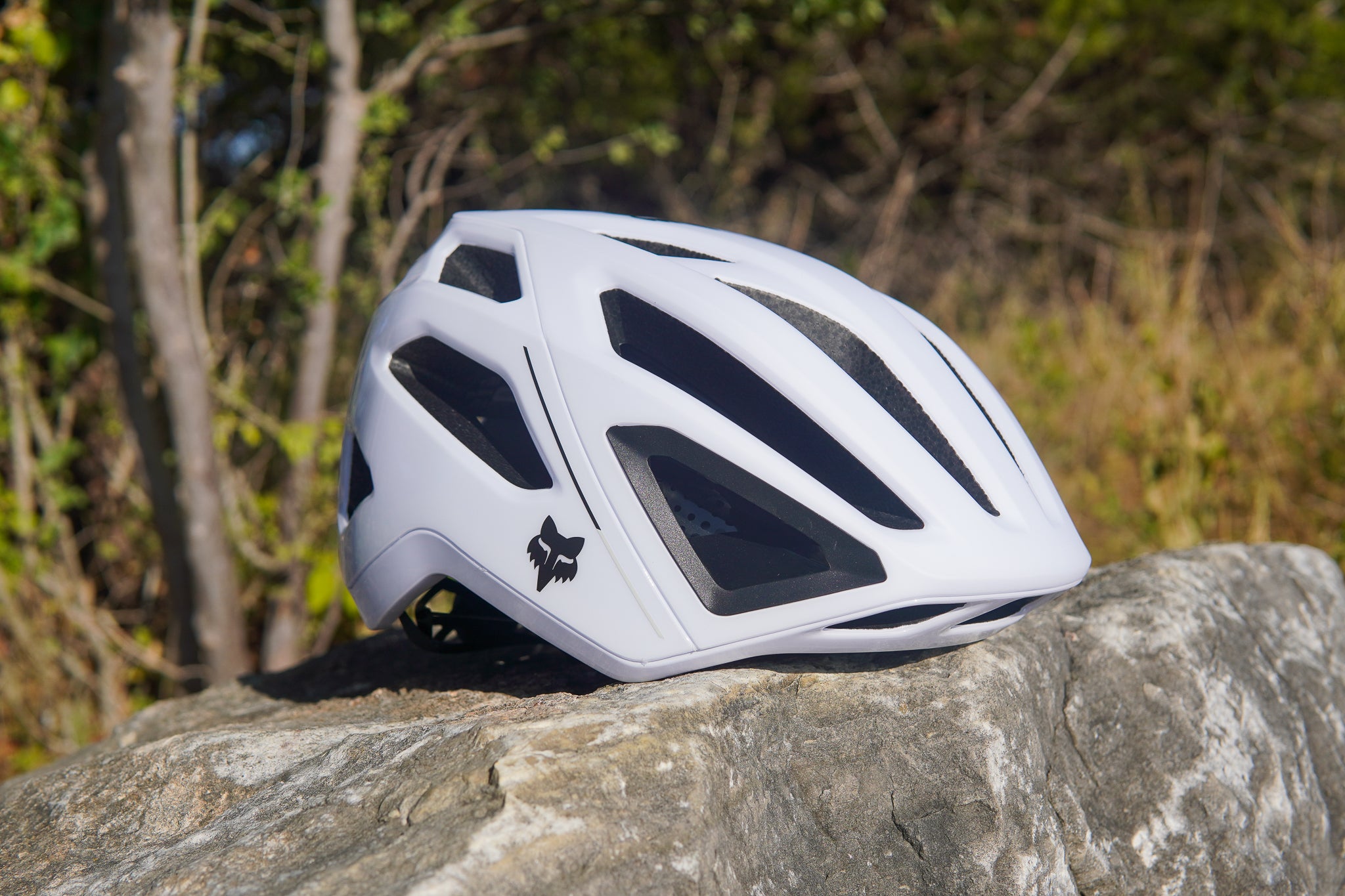 Trainer Road
Fox Crossframe Helmet Review: Toeing the Line
Fox Racing, the company perhaps better known for mountain bike suspension, motocross pads, or everything associated with dirt, is expanding to gravel. Everyone's doing it, so why not Fox? That's where their new Fox Crossframe Pro helmet comes in.
The helmet is a veritable checklist of everything someone might be looking for. Paired with its more substantial look compared to traditional road helmets, it aims to work just as well for the average cross-country MTB rider as it does for someone riding gravel. Is that the case, or is that marketing spin to break into a new market?
Crossframe Pro helmet details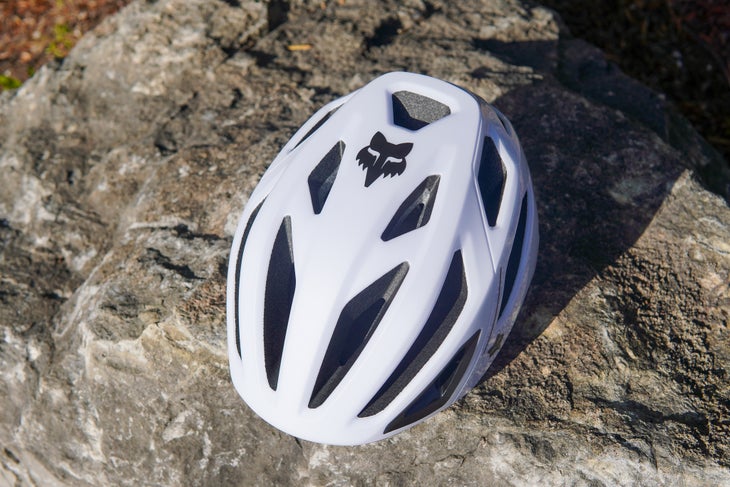 Fox helmets are more likely to be found on someone riding the Red Bull Rampage than someone putting their hands around a drop bar. But Fox is trying to go after that space. But with their latest helmet, Fox says they're going after gravel.
The Crossframe Pro is Fox's first visorless helmet, but it still maintains the feature set that someone might expect from the Fox name. Namely, the helmet offers a fair bit more coverage around the sides and rear compared to a traditional road helmet from the likes of Giro or Specialized. This is probably the "gravel" component of the helmet, but its overall size and shape say MTB more than gravel. I guess it depends on what your definition of local gravel riding is.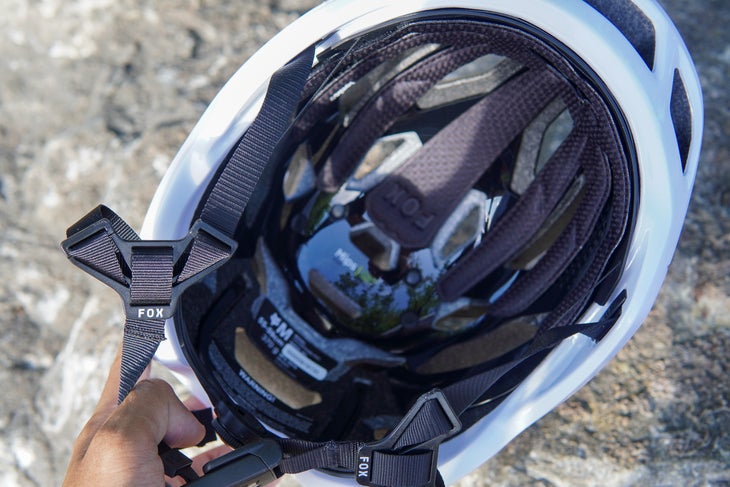 While the Crossframe Pro isn't compatible with goggles like most other Fox helmets, the outer vents have a TPU grate on the inside that holds eyewear in snugly.
Fox touts plenty of ventilation with this helmet, going so far as to say that "its well-ventilated, visor-less design is its most discernible element." Inside you'll find several in-molded EPS elements aimed at improving ventilation in the helmet. This is paired with a number of exterior vents that work around the MIPS plastic liner inside to offer ventilation.
The retention system itself is fairly simple, with just a height-adjustable cradle out back to stay in place. That cradle is height adjustable and further adjustable for tightness with an easy-to-use Boa dial.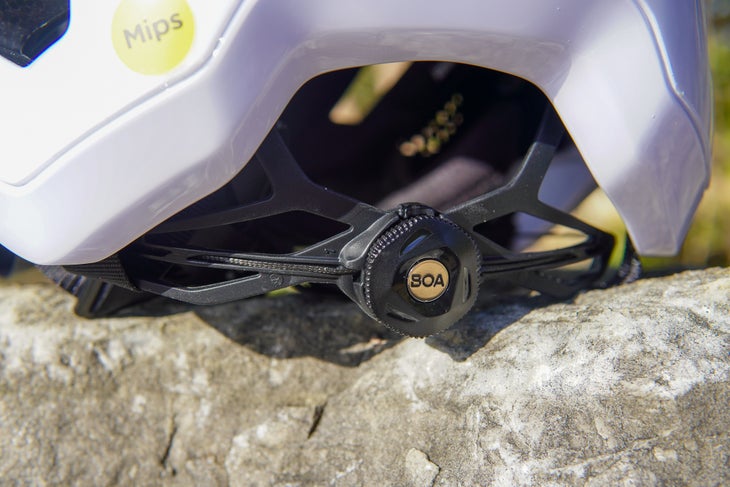 Helmet straps flow to a wide tri-junction area that sits below the ears. At the bottom is a Fidlock magnetic buckle. I'll never choose a helmet purely for the magnetic buckle, but it's substantial "click" that comes every time the magnets meet adds an air of polish to a part of the helmet you're going to use over and over again.
The Fox Crossframe Pro helmet is quoted to weigh in at 346 grams in a size medium. My size medium weighed in at 351 grams. This weight is about bang on for a helmet with the extra protection it provides, though it is heavier than many other road helmets at this price point.
The Crossframe Pro is available in three colors and three sizes. Pictured here is the size medium in white.
How well does the Crossframe helmet work for gravel?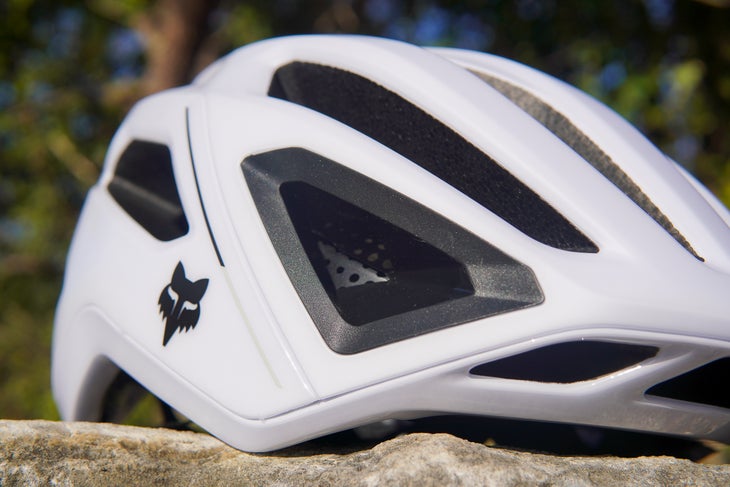 The Fox Crossframe Pro offers plenty of features across the helmet. Few other helmets fit in quite as many features as this; the Boa dial and the Fidlock magnetic helmet buckle both come off as impressive. To be fair, this is a fairly premium price point, but the feature set offers more than what one might expect. That's a win.
Fox has given the Crossframe Pro a set of interior-mounted grates that go inside of the helmet. These are supposed to hold your glasses in securely when the going gets rough. I found they hold eyewear more securely than your average helmet, particularly road-centric helmets thanks to the plastic grate that you fit them into.
I suspect the straps being spaced so far away from my head led to what amounted to a fairly loud helmet at higher speeds. Much of that could also be due to the shape that itself isn't particularly aerodynamic, but Fox makes no claims to aero efficiency anyway.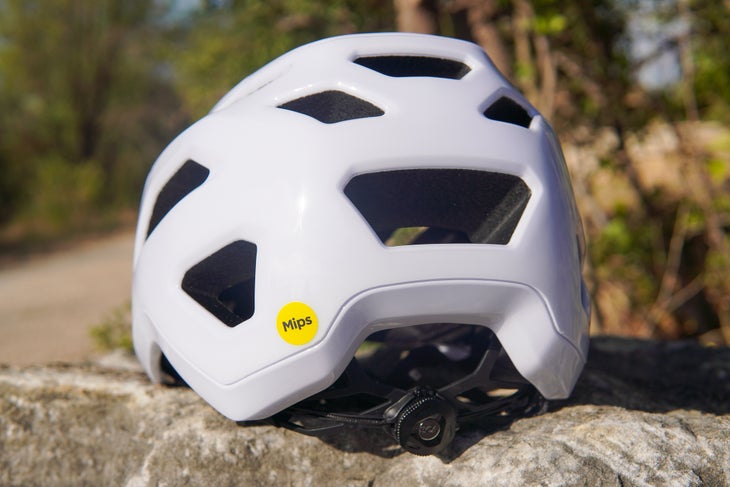 How does the helmet fit? Well with my fairly standard head and a thick head of hair, I found the Crossframe Pro to be easy to put on and wear for quite some time. Importantly, the helmet stays in place and feels just as secure at the end of a long ride as it does at the start. Further, the Boa dial and adjustable cradle meant I set up tension once and never messed with it again. That can't always be said about other helmets that require fiddling to get the comfort just right.
The aforementioned tri-zone area that sits below the ears is non-adjustable, but I found a non-issue with its comfort. The straps fall evenly along the head, though the strap arrangement has them spaced too far from my head. Not a big deal, but certainly something more to be expected with a traditional MTB helmet than a dedicated road helmet.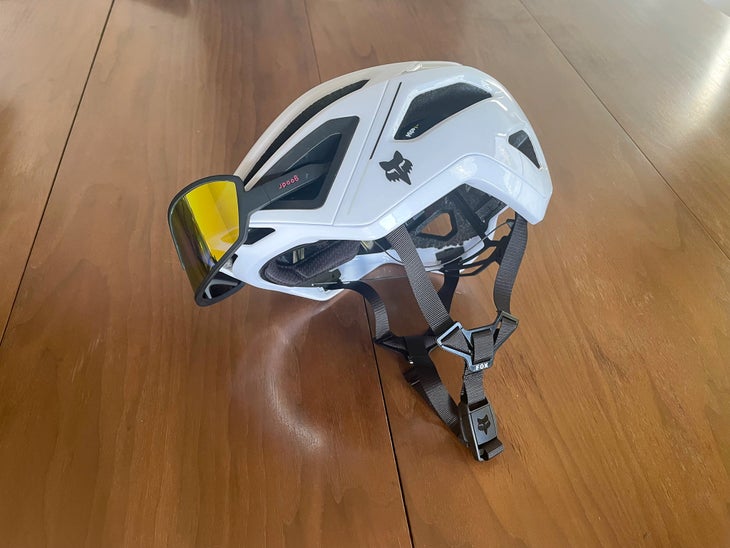 I've had the chance to put this helmet through its paces in the heat of Central Texas, with temperatures in the high 90s Fahrenheit (around 36 to 37 degrees Celsius), and found that the helmet was about average for ventilation. They're not especially well-ventilated – road-centric helmets like the Bell XR much less the airy Giro Aries do a better job – but the Crossframe Pro works just fine under most situations.
Conclusion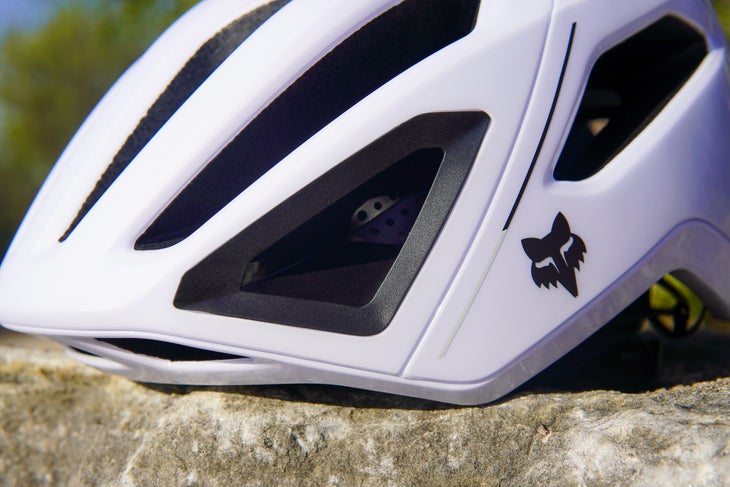 The Fox Crossframe Pro asks a bigger question of what gravel cycling is to you. Most folks who ride gravel around me just grab a road helmet, even if they're doing the veritable "underbiking" that people love. But if your gravel riding is more of riding a drop bar bike on singletrack – spaces where a short travel mountain bike might work well – then the Crossframe Pro is likely an excellent choice. As much as Fox wants this helmet to toe the line between gravel and short-travel MTB, it feels better suited to the latter than the former.
I found the Crossframe Pro to be a well-fitting helmet with lots of features and good build quality. It isn't the first helmet I grab for a gravel ride, however. What your gravel bike rides look like might determine just how good of an option it is.
Helmet: Fox Crossframe Pro, White, size M
Price: $219.95 US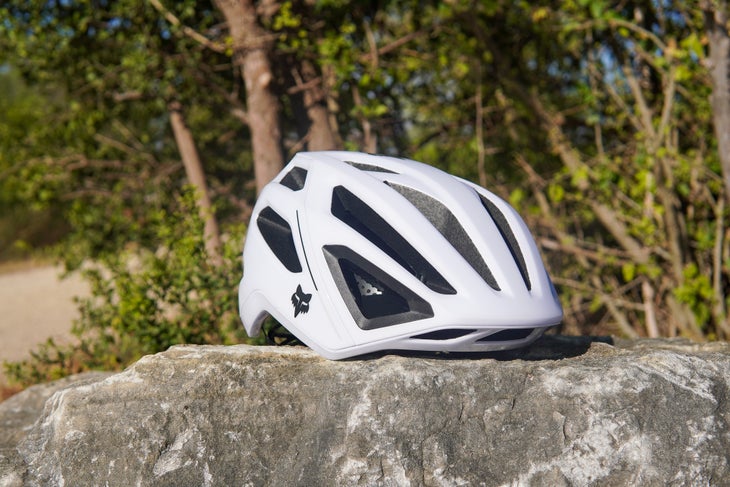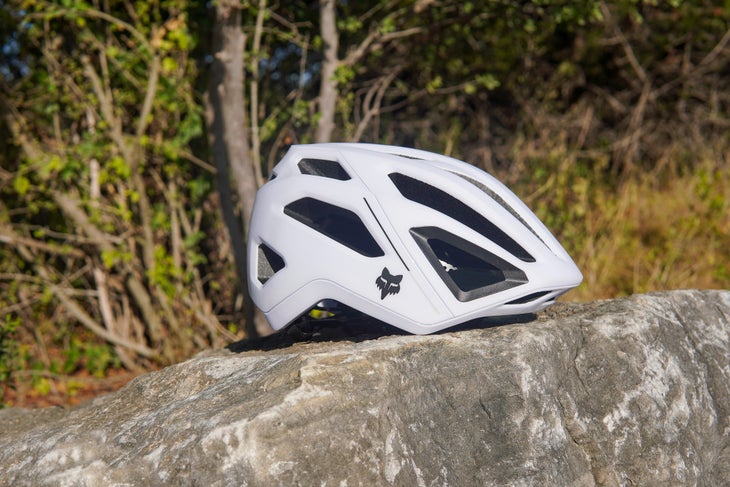 Comments (0)
No reviews found