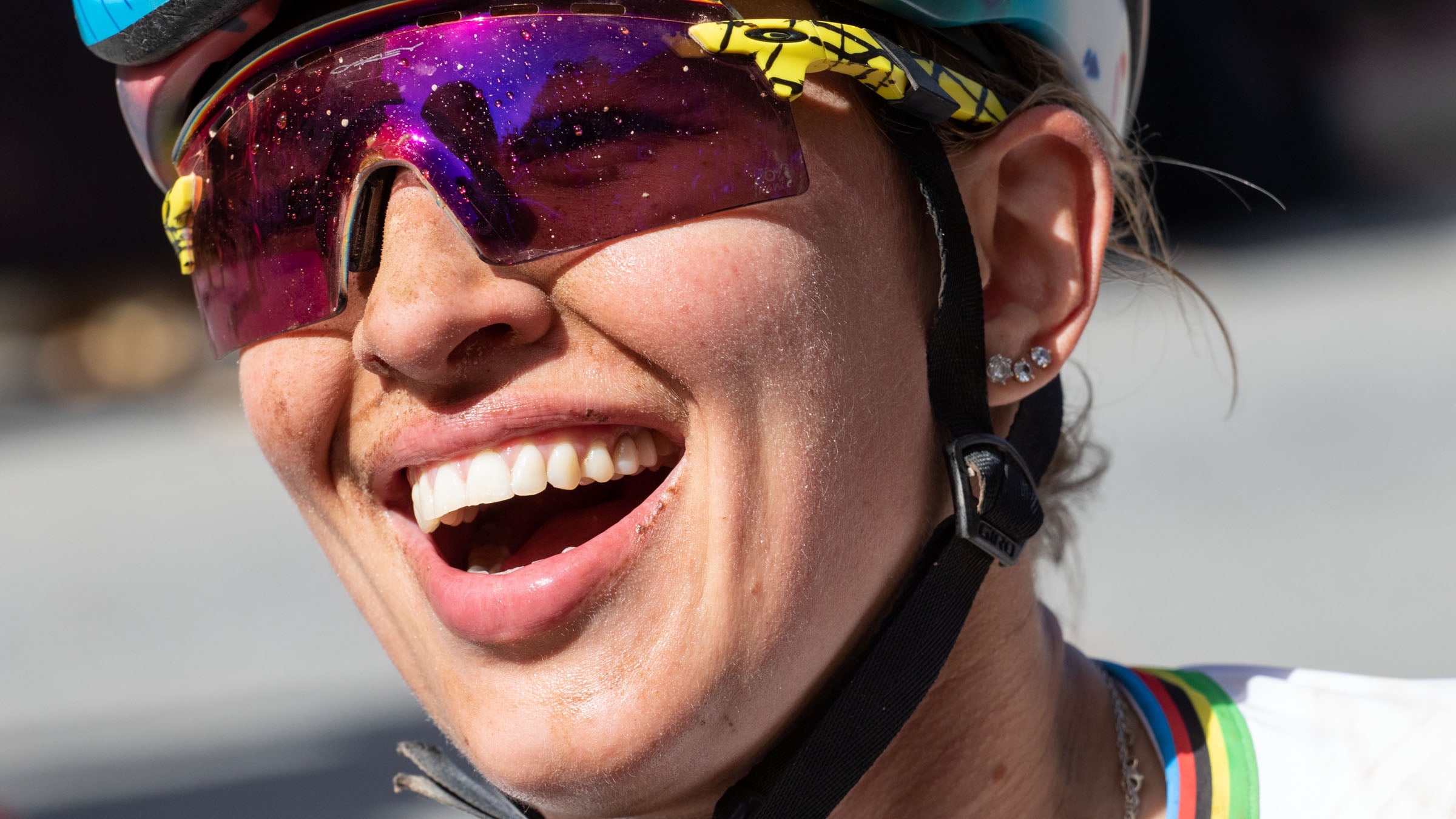 Trainer Road
Is There More Gravel in Niewiadoma's Future?
BENTONVILLE, Arkansas (Velo) – It's funny how much can change in two weeks.
At the press conference following the UCI Gravel World Championships in Italy two weeks ago, newly-crowned gravel world champion Kasia Niewiadoma said with certainty that she was not leaving the road to become a gravel racer.
Yes, the Canyon-SRAM pro was planning on doing the Big Sugar Gravel race in Bentonville, Arkansas on October 21, but only because her partner Taylor Phinney had a commitment to DJ the race's afterparty.
At the finish line in Bentonville, after winning the elite women's race by some nine minutes, Niewiadoma hinted at a different future.
"I think that racing on the gravel is amazing preparation for road, so I would like to combine that because I feel like with gravel, I could improve my time trialing or breakaway moves. I'm definitely keen to combine two schedules," she said.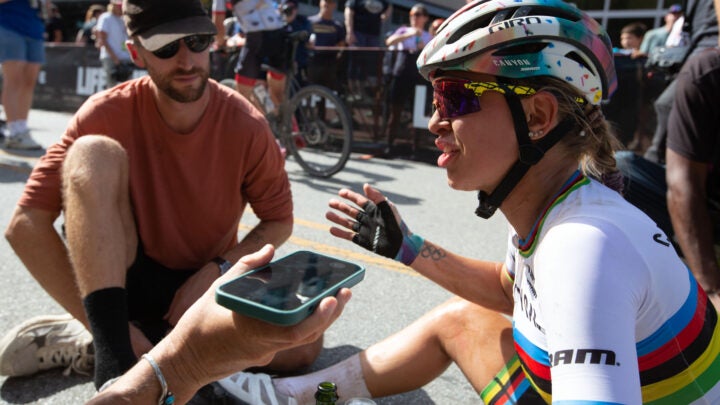 Unlike after the Tour de France Femmes — where Niewiadoma has finished on the podium twice — or any other Women's WorldTour race where riders are whisked away to team busses and press conferences after the race, after Big Sugar Niewiadoma was content to sit on the pavement at the finish line and talk about her day, the differences in racing gravel and road, and what she could see for herself going forward.
That part of gravel racing — the casual hangs at the finish line and milling around the expo before the race — hasn't surprised her. What has is what happens during the racing.
"It was definitely very brutal and I felt like, hearing about gravel beforehand I was like, 'oh it's sweet, people just ride for a long time, and they relax and have fun,' but it's actually insanely hard and I feel like every single roadie should know that. Because at some point, we were like, 'gravel is for people who don't really want to race.' But actually I believe it's the opposite."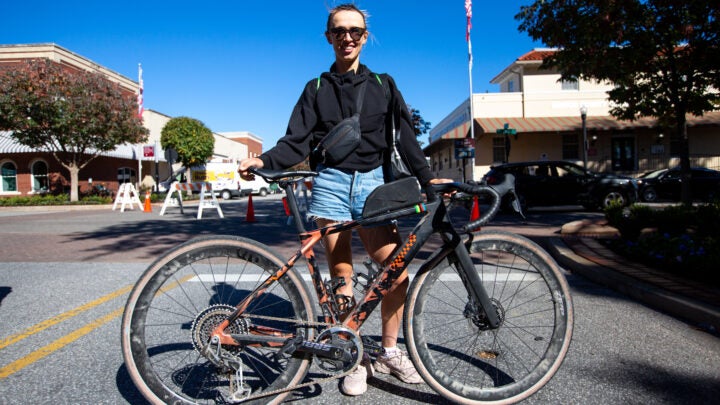 Niewiadoma's assessment of the difficulty of gravel racing should count for something. She's been racing on the road professionally for the past 10 years and has lined up — with great success — at every major WorldTour race on the calendar, from the Tour de France Femmes, the Giro d'Italia and other stage races to all of the spring classics and dozens of world championships.
While she doesn't have enough gravel racing under her belt to know that that certain gravel races do feel like road races on dirt, she has noted that the overall effort in a gravel race feels wildly different from the road.
"It's completely different," she said. "I feel like on the road, usually it's hard enough but then the final hour is insanely hard. Here it's different, you feel like you're fading away gradually and you see it's still 80k to go and you're like, how am I gonna do it because you're on your own, there are no teammates around you. It's kind of cool because you just fight with yourself. It's like a time trial for hundreds of ks."
At both gravel worlds in Italy and Big Sugar, Niewiadoma attacked and solo'ed to the finish line. However, the fields she rode away at each race from were vastly different. In Italy, the field was predominantly made up of her WorldTour cohort. In Arkansas, it was the cream of the crop of American 'gravel specialists.'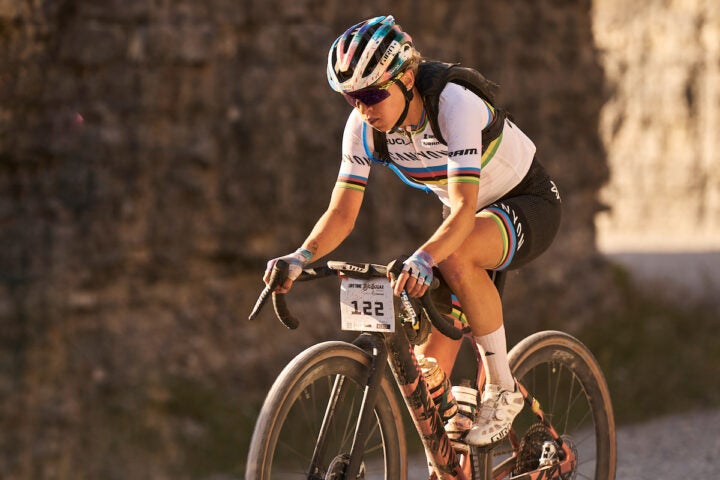 Niewiadoma's assessment of her gravel-centric competition at Big Sugar was similar to her impression of gravel racing — not better or worse, just different.
"I think they're strong," she said. "I feel like they just race differently than how we race in Europe. No one was really fighting for position before the important sections. In Europe it's a fight before that. So I was like, 'oh that's sweet, I can enter something first without fighting for it.' In Europe because we have so many girls you become feisty, yet these girls were very strong uphill for sure."
During the early 20 miles of Big Sugar, Niewiadoma had good company racing in a group of nine. Then, she and Sofia Gomez Villafañe, the overall winner of the Life Time Grand Prix series, spent some time off the front together. It was a good opportunity for Niewiadoma to assess her own strengths against those of a gravel specialist with a strong background in mountain biking.
"At the start we  would ride every hill quite hard and at first I would start to doubt myself because I was suffering. But the more accelerations we had the more I realized that others were fading away. Sofia was way better technically than me and anytime we'd go down and she'd open a gap because I didn't feel very comfortable and she would just shred the corners. In my mind I was like, 'I need to make a gap uphill in case she comes hot from the back I'm already there."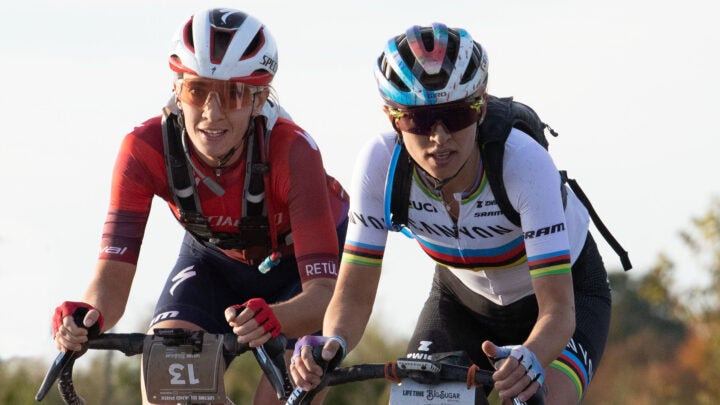 Unfortunately, Gomez Villafañe decided to ride party pace after the first feed zone around mile 38, so the pair didn't get to finish the race together. Nevertheless, that didn't make it any easier for the world champion.
"The course was relentless, there was never a time to rest," she said.
Although her gravel career thus far has been short — and very sweet — it might be just the spark Niewiadoma has been looking for. Reflecting on her 2023 road season, she has said that she's stronger and fitter than ever — but that so is everyone else. Strength training and altitude training — both of which Niewiadoma has focused on in the past few years — are de rigueur. A few races in another discipline, whether it be cyclocross or gravel, might be what takes her to the next level.
"It's always nice to do something different, and I feel like after 10 years spent on the road I'm looking for some different things to motivate me," she said.
Niewiadoma wouldn't be the first to combine two disciplines to keep a sharper edge. Road world champion Lotte Kopecky is prolific on the track. Numerous WorldTour riders spend the winter tearing up the cyclocross circuit. Niewiadoma's own Canyon-SRAM teammate Tiffany Cromwell has been racing a mixed gravel and road calendar for the past two years, and American Lauren Stephens has long touted the benefits of racing gravel as training for the road.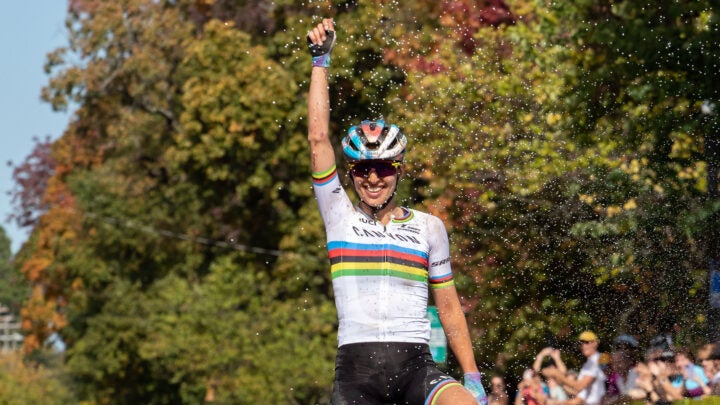 2024 might be a tricky year for Niewiadoma to add too many gravel races to her schedule with the upcoming Paris Olympics in July, but she's already eyeing a few openings in her calendar. "Maybe post Classics?" she said.
Niewiadoma already lives in Europe's gravel capital of Girona, where she said she's gained a lot of off-road skill following Phinney through the woods on a mountain bike. She's already eyeing the Traka, a wildly popular gravel race held in April in Girona.
Regardless of how far Niewiadoma takes gravel racing — or when she begins to incorporate it into her schedule — after Big Sugar, she was already speaking the langauge.
"I have to be honest, the last 5k I was like, 'never again.' It's super hard, but I feel like always after winning and suffering in a sufferfest, you feel so satisfied to do more."
Comments (1)